How to Host Your First Thanksgiving on a Budget
A handy list of what to do and what to skip.
Hosting your first-ever Thanksgiving is a big deal. It means you've reached a point in life where you have responsibilities and people are depending on you to help make their holiday special.
But never fear, it's not difficult to host a Thanksgiving gathering. The same key elements apply as for any party – invite the right people, serve good food and drinks, and you're set.
Here are tips on how to make sure you do it right without spending a fortune.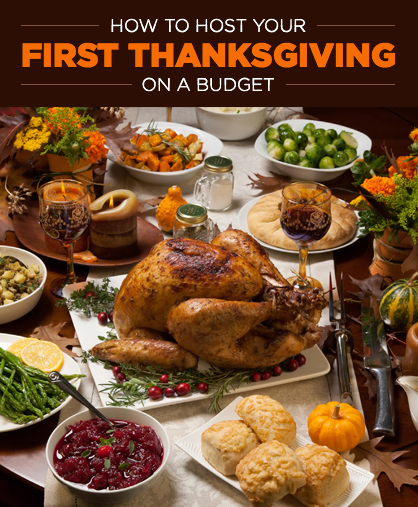 Keep the invitation list reasonable
Invite your best friends and family members, but limit it to no more than 8-10 people so that you don't have to feed masses of people. Skip the printed invitations, and call your friends to invite them, or send emails or text messages. This is 2017. No one will mind the casual invitations.
Plan your menu
Spend some time planning your menu and researching your recipes. Look for dishes that are easy to prepare and can be made in advance. If they have common ingredients, all the better, so that you can buy fewer items at the grocery store. Once you have your menu in place, schedule when you will make each one so that you're not rushed on Thanksgiving morning.
Allow your friends to bring dishes
It's not quite potluck, but it is something akin to potluck. But absolutely let your friends (and family) bring a side dish, dessert, or wine. It's not okay to invite them and ask for them to bring a dish, but if they offer, gratefully accept their help and assign them a certain dish so that you know what they will be bringing.
Shop smart
When it's time to go grocery shopping, stick to your list. Shop the sales, because there are plenty of them this time of year, and you'll find great deals. Frozen turkeys can usually be found for 49 cents a pound at many grocery stores. Generic items are a great way to save extra dollars. No one will ever know the difference. Basic ingredients bought fresh are usually less expensive than prepared items. And don't let the lure of French Brie, or exotic fruits, run up your bill at the store.
Don't go overboard with decorations
There's no need to buy new placemats and napkins and serving dishes for Thanksgiving, unless you visit the dollar store or find a great last-minute sale at a craft store.
Use what you have, and borrow the rest from friends, or even your mom or aunt. You'll be surprised at how many spare dishes most relatives have tucked away in cabinets only to be brought out once a year, or less. The only absolutes are a roasting pan and platter for the turkey, and a carving knife.
Drink up
Alcohol is a big budget buster. It's expensive, and also goes fast when everyone is in a festive environment. Serve only beer and wine, and let your guests know that if they want something extra, they'll need to bring it along. And don't opt for the pricey bottles of wine from Sonoma County, California. This is definitely the time for Two-Buck Chuck from Trader Joe's or even boxed wine.
And for your non-drinking guests, opt for iced tea and infused water. You can flavor plain tap water with mint or lemon as a great option.
Give thanks for what matters
Remember, there's no need to go bankrupt to serve a Thanksgiving meal to your friends and family. Christmas is just around the corner, so it's an important time to save for the entire holiday season. A little bit of creativity goes a long way in hosting on a budget.
Tagged in: thanksgiving, hosting, budget, thanksgiving traditions,