Healthier Holiday Party Alternatives
Tempted by holiday festivities and functions, cookies and cocktails, it's no wonder the scale wavers a bit this time of year. A couple handfuls of nuts and you're already 400 calories deep! Don't fret—whether you're hosting a holiday affair or attending one, we've got some tips and tricks to help you stay on the right track while navigating the endless buffets this season.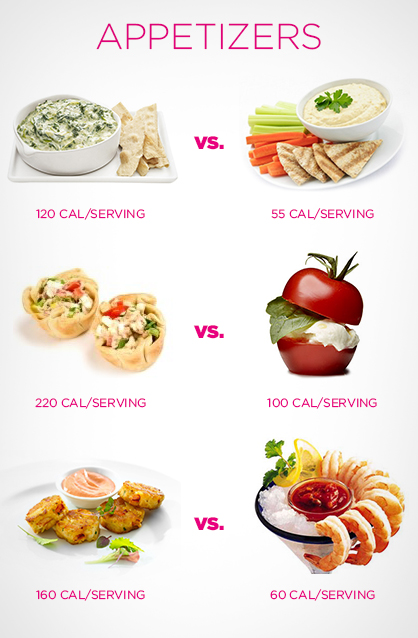 Don't be fooled by appetizers: most of them are calorie bombs disguised as mini bite-sized snacks. When choosing what to put on your plate, think about the main ingredient and how it was prepared. Choose hummus, made from garbanzo beans as opposed to an artichoke dip with a heavy cream base. Substitute chips for whole- wheat pita or crudités. Keep calories in check by steering clear of breaded and phylo dough options. Skewers of caprese, chicken or fruit will fill you up without the guilt. Beware of fried foods such as crab cakes or egg rolls and go with a lighter shrimp cocktail or spring roll that involves no cooking.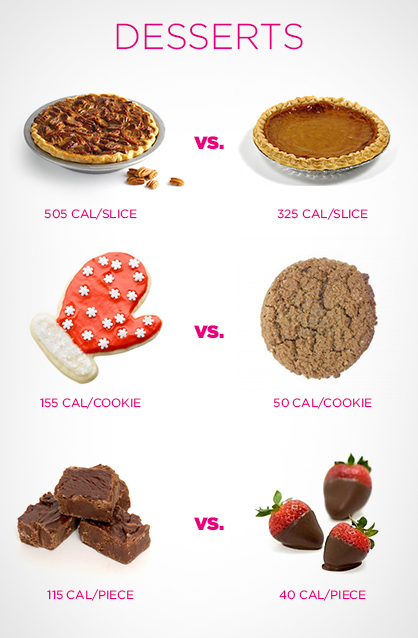 While you'd be lucky to find a dessert classified as healthy, you can certainly choose better options while indulging. A calorie laden pecan pie provides healthy nuts but doesn't make up for the corn syrup and sugar filling. Go with a less caloric option in pumpkin pie. Tip: Enjoy a slice without the crust. Dressed in their holiday best, cookies are bigger and better with frosting and other added ingredients. To fulfill your sweet tooth, opt for a couple ginger snaps or shortbread cookies. For chocolate lovers drawn to dense fudge and other chocolate-y treats, try a fondue fountain for dipping fruit and graham crackers. Bonus points for dark chocolate!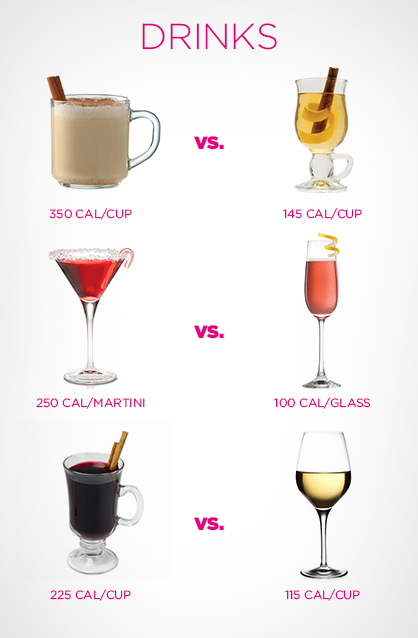 It wouldn't be a party without festive holiday cocktails, but adding cheery mixers, liqueurs and syrups may have you regretting that last martini the next day. When it comes to cocktails, try to stick to clear liquids and avoid sugary mixers. Although it's a holiday favorite, the heavy cream, egg yolks and sugar in eggnog put it squarely on the naughty list. Go with a cinnamon hot toddy and your waistline will thank you. Celebrate with a glass of champagne as opposed to a martini and save over 100 calories. Add a splash of cranberry for a festive red hue. Mulled wine may provide healthy antioxidants, but will set you back with all the added sugar. Instead, opt for a white wine spritzer and jazz it up with some cranberries.

Tagged in: food, wellness wednesday, nutrition, health, holiday 2012, desserts, cocktails, appetizers,