Coyuchi organic cotton brings nature home
Although spring is the time to clean your house and transition your wardrobe into pastels, it is also the right time to bring a little mother nature into your home. Do some spring "greening" with the signature home textile line, Coyuchi.
Coyuchi items are one hundred percent certified organic cotton. This collection will rejuvenate the mind, body and spirit and turn your home into an organic sanctuary with its bedding, bath towels, wearables and baby items.
"Coyuchi" is a word used in southern Mexico for naturally colored brown cotton. Founded twenty years ago in Point Reyes Station on the Northern California coast, Coyuchi was inspired by the surrounding landscape of beach and bluff, ocean and forest. This collection of home textiles features natural and rustic colors resembling the earth, water and sky. Organic cotton is the heart of their fabric design and is certified by the Global Organic Textile Standard. Additional materials include linen, cashmere and other pure, natural fibers.
"Anything wrinkle-free has added polyester or is coated with chemical resin," says Karyn Barsa, CEO of Coyuchi. "Also, skip super high thread counts. The thin threads may be strengthened with—you guessed it—more chemicals. Organic cotton, by contrast, simply softens over time and generally lasts longer."
Coyuchi bedding includes everything you will need to feel revitalized each morning. There are bedding collections, duvet covers, blankets, coverlets, quilts, sheets, pillowcases, shams, decorative pillows and bedding basics. Designed in light neutral colors, you are able to mix and match different pieces together to craft multiple bedding sets. These organic cotton bed sets will ensure that you have sweet dreams and a well-rested sleep, guaranteed!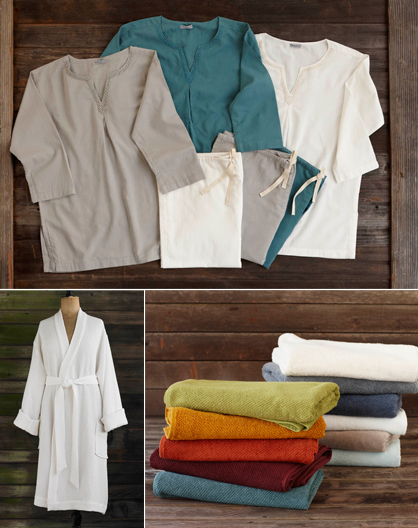 via Coyuchi
After a bath, you want nothing more than to continue feeling clean and refreshed throughout the day. Make your experience after bathing just as pleasant when you dry off with organic cotton and linen towels.
You are also able to wear these organic fabrics all day long if desired. Coyuchi wearable pieces include men and women's bath robes and women's sleepwear. Wake restored and ready to conquer the day after wearing these light and airy robes in organic cotton and linen. Women will love both the organic cotton jersey nightshirts and nightgowns providing supreme comfort.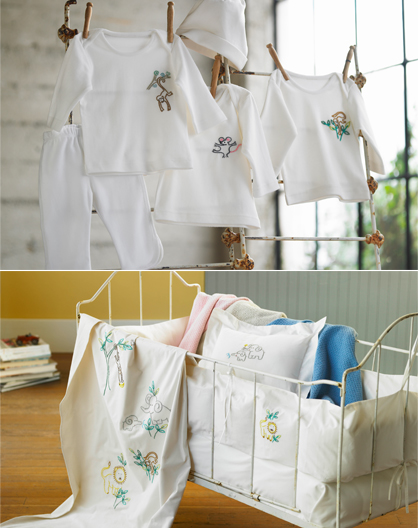 via Coyuchi
Don't forget about the little ones! Coyuchi baby items are also available to give children breathable and soft fabrics for their sensitive skin. Babies will appreciate the organic cotton clothing, blankets and crib sets. A baby's nursery should be just as charming and peaceful as the rest of the house, so create an ultimate baby haven with a crib collection, blankets, bumper covers, crib skirts, crib sheets, crib bedding basics, bath sets and even clothing.
Chic Coyuchi products are offered for sale at various boutiques and prominently featured at luxury hotels and spas around the country.
To experience the entire organic cotton world of bedding, bath towels, wearables and baby items, visit www.coyuchi.com

Tagged in: green, baby, cashmere, linen, bath, bedding, organic cotton, environmental, wearables, coyuchi,