Austin City Guide: Where to Eat, Stay and Play
South by Southwest is right around the corner and we're getting ready by listening to some of our favorite bands that are being showcased as we plan our stay in the amazing city of Austin, Texas. When you're not hopping around from show to show, take a little time to get to know Austin with this city guide. Featuring local watering holes, quaint hotels and popular weekend spots, there is certainly no shortage of things to see in Austin.
Stay: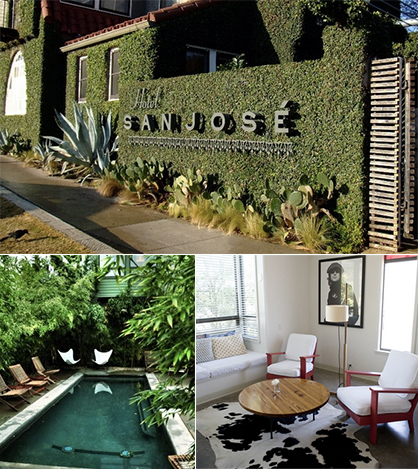 San Jose Hotel: Located in the heart of South Congress Avenue, one of Austin's favorite neighborhoods, this ultra-modern hotel has earned international acclaim for its eclectic design and laid-back attitude. This 40-room bungalow style set up features lush garden courtyards, hip interior designs and a beautiful courtyard lounge, perfect for a glass of wine before heading out. Located a few blocks from Lady Bird Lake and downtown Austin, the San Jose Hotel is the perfect retreat for inspiration and adventure. Dogs are always welcome.
Eat: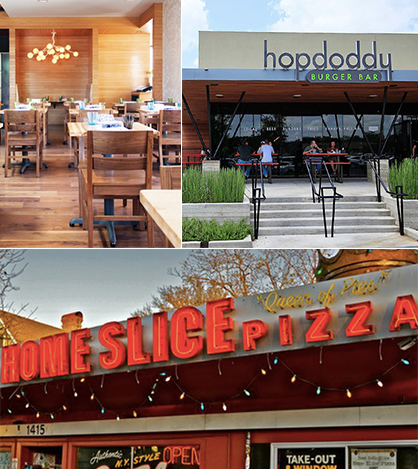 While Austin is known as the "Live Music Capital of the World" it is also home to some of the best eats in the country. From upscale dining to food trucks galore, there are unique and inventive restaurants to suit everybody's taste. Stop by Home Slice for the best New York-style pizza or try Franklin Barbecue to get a little taste of Texas. The wine bar and restaurant, Wink, provides the perfect setting for a romantic date night.
See our list of Best Eats in Austin, for 10 places that are not to be missed.
Shop: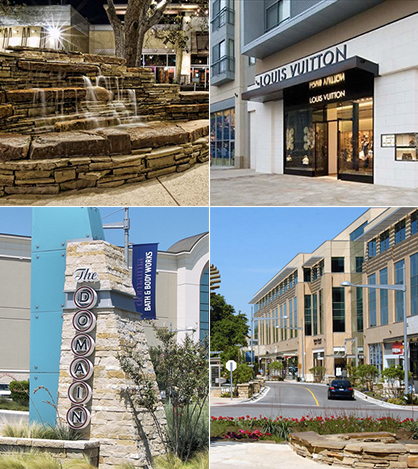 The Domain: If you're looking to spend a little dough while in town, look no further than The Domain for all your retail therapy needs. Situated in a beautiful park-like setting, The Domain is the premier outdoor shopping mall of Austin. Spend the afternoon in more than 100 upscale retail stores and boutiques and carve out some time for lunch or dinner while you're at it. From Louis Vuitton to Tiffany & Co., The Domain is sure to have what you're looking for.
Play: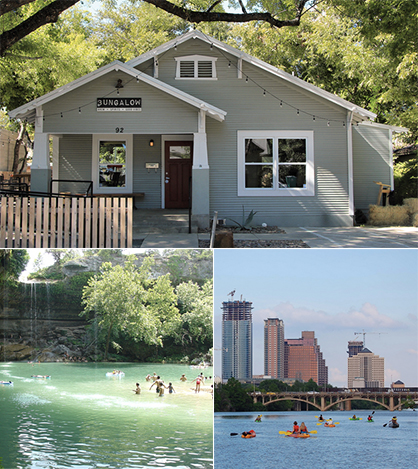 Lady Bird Lake: A reservoir of the Colorado River, Lady Bird Lake is located right in downtown Austin situated amongst a beautiful backdrop of trees, trails and the city skyline. This popular recreational spot is filled seven days a week with runners, bikers, paddleboarders and kayakers getting their fitness on and enjoying the view. Grab a cup of coffee and stroll along the bridge for great people watching or paddle over to Zilker Park and check out Barton Springs.
Rainey Street: For a unique night out in Austin, don't miss the historic district known as Rainey Street. This local hot spot is filled with charming, bungalow-style bars and restaurants all renovated from old houses. With ample backyards and patio space, it's the perfect laid-back spot to grab a beer and listen to some live music when the weather warms up. For late night food, there is no shortage of food trucks to satisfy your cravings.
Hamilton Pool: When the sun's out in Austin, you can bet that the locals are at Hamilton Pool cooling down. This gorgeous, natural preserve features a jade green pool surrounded by huge slabs of limestone, cliffs and grottos and a 50-foot waterfall. Stop by for an afternoon of swimming, pack a picnic to enjoy at the water's edge or hike the trails among the 232 acres of natural habitat that surround the pool.
Tagged in: guides, lux travel, travel, hotels, restaurants, austin, sxsw,