5 Last Minute NYE Travel Destinations
The holiday countdown is almost over. It's nearly New Year's Eve and it's your last chance to celebrate before winter sets in full force. Last-minute getaways are always exciting, and we have picked five of the best spots for you to consider for an unforgettable New Year's Eve. If kitsch is your thing, consider dressing up like Paul Bunyan in Bangor, Maine, or watch a walleye drop from a building in Port Clinton, Ohio. If you're more into glamour and glitz, head to Miami Beach for a Great Gatsby party, or Washington, D.C. to be a Bond Girl. Or, if it's simply not New Year's Eve without snow and skis, opt for Mt. Hood Territory in Oregon.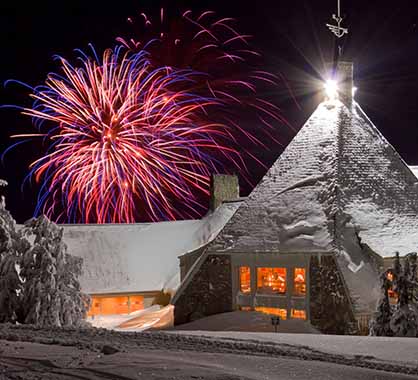 Head to Oregon's Mt. Hood Territory for a snowy New Year's Eve. Timberline Lodge ends the year with its tradition of night skiing through the midnight hour. Show off your ski attire and warm up in the Market Café bar and watch the beautiful fireworks show on New Year's Eve. Or treat your senses and enjoy a formal dinner in the historic lodge, dancing optional. At Mt. Hood Skibowl, there are two fireworks shows, cosmic tubing, a torchlight parade and a champagne toast at the historic Warming Hut at midnight.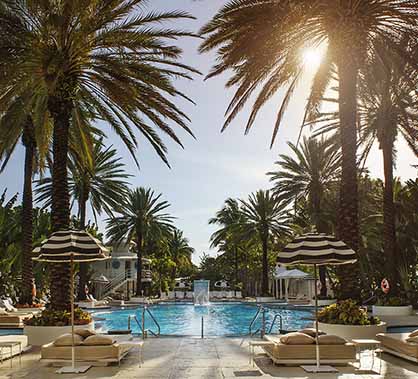 Already over all the snow? While people are bundled up in Times Square waiting for the ball to drop, on Miami Beach visitors are trading in their winter boots for flip flops and enjoying the summer-like temperatures. Miami Beach is hosting an array of events that will attract those who want to heat up their NYE. When the festivities wrap, visitors can enjoy the warm weather by relaxing poolside at any of the lavish hotels and resorts and of course, take in the beautiful beaches. Opt fo a bit of of retro-chic with the Ratpack Era NYE 2014 party at The Oasis at The Raleigh, or the sexy South Beach Loves Sizzle 1923 Great Gatsby themed NYE party at the SLS Hotel South Beach with performances by Robin Thicke and Skylar Grey.
Small Town Kitsch in Bangor, Maine
Opt for something more downhome kitschy in Bangor, Maine as the town celebrates New Year's Eve by throwing a beach ball covered in lights off of a downtown building. Go all the way and wear your best red plaid flannel shirt and enter the Paul Bunyan contest with a Mr. and Mrs. Bunyan lookalike contest.
Walleye Madness in Port Clinton, Ohio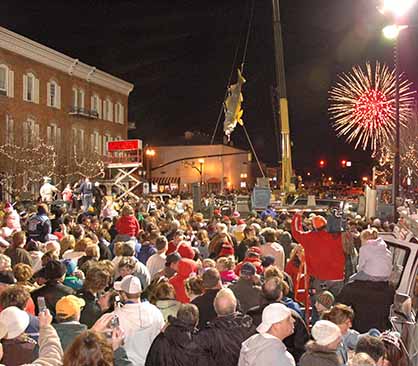 Over in Port Clinton, Ohio, the theme is Walleye Madness at Midnight. The tiny Lake Erie coastal town, considered the "walleye capital of the world," drops a 20-foot, 600-pound walleye from the sky at the stroke of midnight on New Year's Eve. The entire town gets in on the fun, with local restaurants preparing walleye specialties such as Walleye Chowder, Walleye Sandwiches, Walleye Cinnamon Chips, and Walleye Popcorn. A local winery has even created a "Walleye White" wine to honor the city's walleye fame. (Photo courtesy of Lake Erie Shores & Islands.)
Get a License to Thrill in Washington, D.C.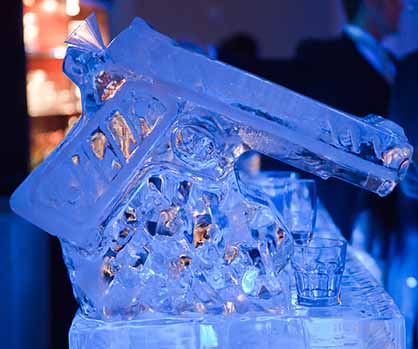 Do you prefer your cocktails shaken or stirred? The 12th Annual James Bond 007 Thunderball in Washington, D.C. is billed as the city's only NYE celebration "With a License to Thrill." So, go ahead and channel your inner spy and femme fatale and be a Bond Girl for a night.
Read more New Year's Eve
Tagged in: travel, nye, celebration,